【For administrators】

Here is the procedure to create working conditions and the management unit and control items to create.
Procedure for setting working conditions
Determination of management unit
Operation control by group manager
---
Setup steps


Click on Company working conditions.




+ Icon: click on new registration



Select payment day group
(You can also create a new payment group. For the payment day group,please click here.)



Register basic information





code
Input is optional. (If you do not enter it, it will be automatically numbered. The code will be used instead of the name of the working condition when importing or exporting.)
Payment group
Select the payment day group linked to the working condition.
(The one selected in 3 is entered.)

name
Enter the name of the labor condition.
Salary method
Select the appropriate one. (Currently, Japan, Vietnam, India can be chosen. )
Application start date
You can select within the range of 2 months before and after the current month. Regarding the start date of application, click here
Office
Select the social insurance office to apply to the working conditions. Please set up a social insurance office in advance. Regarding the setting of a social insurance office, Click here
Memo
Use as memo.




Set each tab
When you are finished, click Register at the bottom of the page.
 (There is no need to press registration for each tab)



You can check the setting details from the link below


【Attendance】
Working hours
Set working hours and overtime calculation method.

Time clock/Rest
We set rounding and break time.

Paid leave pattern
Select paid method.
【Pay】
Pay/Transp
We will set salary, salary transfer information, and transportation expenses.
Extra wage/Night
We will set night time and premium rate for overtime work.
Allowance Deductions
Select allowances and deduction items for payroll calculation.
【Other】
Notification
Notification to Employee and administrator
Operation permission
Set up the scope of authority for employee and group administrator whether to allow operations.
Emplpyee tag
We will select the position (such as title) to give to the employee.



Determination of management unit
For each tab of working conditions, we will decide whether to manage in one central control or by employee.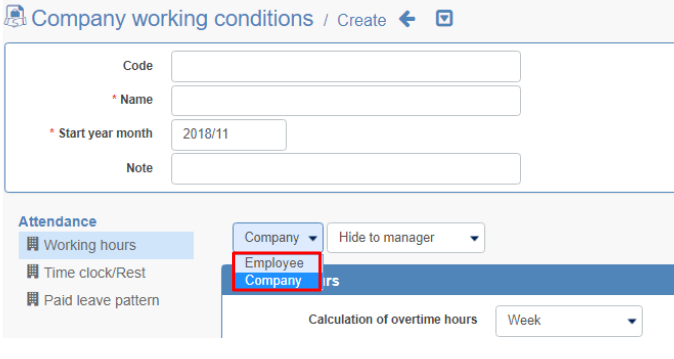 | | |
| --- | --- |
| Employee | Choose this when you make different settings for each employee such as salary and transportation expenses. |
| Company | Choose the settings you would like to use common settings for employees sharing the same working conditions, such as overtime hours calculation and time clock settings. |

By initial value, it is set as below
        

category
Setting items

Company
Employee
Attendance

Working hours

○
Time clock /  Rest
○
Paid leave pattern
○
Pay
Pay / Transp
○
Extra wage / Nigth
○
Allowance Deduction
○
Other
Notification
○
Operation permission
○
Employee tag
○
---
Operation control by group manager
For each tab, you can display / hide employee working conditions and control editing permission for group administrators.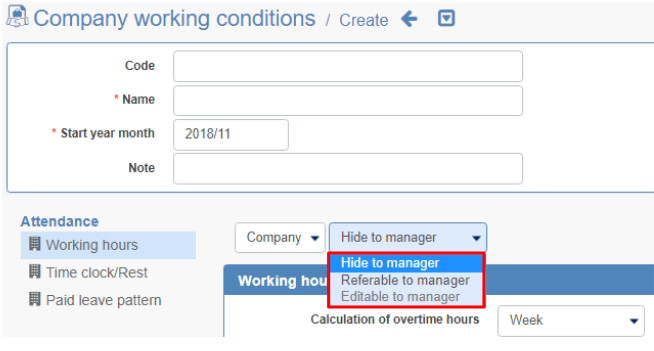 Description
Determination of management unit
Company
Employee
Hide to manager
The group manager can not see the employee working conditions.
○
○
Referable to manager

Group managers can see employee working conditions, but can not edit it.
○
○
Editable to manager
Group managers can edit employee working conditions.
You can select it only when ''Employee" is selected in the management unit.
*1
○
*1 If you select ''common'', you can not select ''Editable to manager''.
* To manage the scope of authority for administrator, click here.